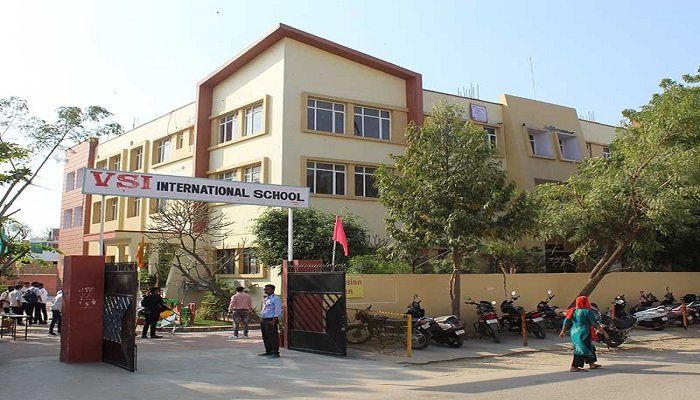 It envisions making its students lifelong learners of knowledge & values and grooms them into the new innovators or creators of change. The school ensures the quality education and growth of every child. The school in Jaipur is equipped with many facilities and programs to provide students with an enhanced and integrated learning experience. The teachers are skilled in their areas of subjects and expertise and are zealous to make their students achieve a higher level of knowledge and skills.
For senior secondary students, the school offers subjects in the streams of Science, Commerce, and Arts. The RBSE syllabus and VSI International School exclusive study pattern help them learn concepts in the best possible way:
Founding Year: 1979
Curriculum: RBSE
Student-Teacher ratio: 20:1
Classes: Pre-school wing,

Primary wing,

Senior wing
Facilities at VSI International School
The best school in Jaipur, Rajasthan- VSI International School, offers the following facilities to students such as:
Labs-Computer lab, Science lab for practical learning and training programs.

Transportation-AC Buses and GPRS systems installed.

Digital teaching aid and smart classroom, Air-conditioned classrooms

Sports area and swimming pool 

Activity room for co-curricular activities.

The library is stocked with an extensive collection of books on various subjects.
Make your students a learner, a performer, and an achiever at VSI International School, Jaipur. 
Student Life at VSI International School, Jaipur
Academics
The variety of subjects builds the analytical and logical part of the human brain (the left side). The school authorities and faculties endeavor academic growth and success in students. The school is an English Medium School in Jaipur and follows the RBSE curriculum.
Education in various subjects and languages like Science, Math, Social studies, English, and Hindi is essential, but regular activities are equally important. The right brain develops with the skills of intuition, imagination, and creativity. That is why playing sports and other co-curricular activities are the foundation of right-brain development. Student life at VSI International School is not just limited to classrooms and academics but also involves many types of enrichment and co-scholastic activities for their holistic development.
Sports
Physical activities like sports maintain the overall fitness level of students. VSI International is the Best School in Jaipur for sports and other activities. Also, the school has facilities for indoor games and outdoor sports like cricket, basketball, badminton, tennis, table tennis, etc. Martial arts like Judo and Karate are also a part of the regular sports classes. A specific time is also allotted for Swimming for boys and girls separately.
Educational Visits
Learning by experience is considered one of the best teaching methods. The school frequently organizes educational visits and outings to industries for students. Students have a limited concentration span; they are easily more inclined to find new things, making them curious to discover and learn new facts. These types of trips give students something new to learn. It also gives them exposure to practical learning and the present industry culture.
Music
Teaching music at school is essential because it helps students beyond developing passion and skills to play a musical instrument and sing. Developing musical skills or singing improves coordination between the hands, eyes, mind, and imagination. It also helps relieve stress and generates a feeling of sympathy and harmony. Students can learn various musical instruments like piano, guitar, and others and get lessons on singing at VSI International School in Jaipur, Rajasthan.
Dance
It is one of the creative expressions of communication of feelings and ideas. The dance skill builds confidence and helps deal with stage fear in students. The other important fact is that it keeps students physically fit. For many students, dance also becomes a passion, which can later become a successful career path.
Painting, Art, and Craft
 The lessons of creativity teach students the morals of appreciating the efforts of artisans, be it a painter, sketch artist, ceramist, potter, designer of textile or jewelry, etc. Students also enhance their creative thinking and creativity skills by learning different types of art forms.
Competitive Exams
Competitive exams and other competitions in sports and co-curricular activities introduce students to the global competitive environment. Many tournaments and contests are regularly held across the schools in Jaipur, Rajasthan. Students of VSI International School participate in many sports competitions and bring laurels to the school.
Admissions Open at VSI International School
The admission process at VSI International School follows the following easy steps
Fill out the registration form.

Attach three passport size photographs of the applicant photocopy of a birth certificate attested by an authorized officer with the registration form.

Submit the registration fees and the registration form at the school reception. 
Contact Information
Interested in enrolling your child at VSI International School? Use the below-mentioned contact information to ask away your queries about the admission.
Address: Sec. 5, Pratap Nagar, Tonk Road, Sanganer, Jaipur (Raj.)
Email: vsiinternationaljaipur@gmail.com
Tel: 0141 – 2793080
Mob: 9309305656