TV
What is the Difference Between OTT & IPTV Platforms?
OTT vs. IPTV — What Are the Differences?
Nowadays, watching videos online has become an integral part of life. This habit or addiction is growing at a faster rate among youngsters. As a result many video streaming sites are mushrooming in India on a daily basis. These online video streaming platforms are broadly divided into two categories or types; IPTV and OTT. 
But to a large section of the audience, they remain confused. And they consider both to be the same but that's not true. 
If you are also confused about IPTV and OTT services, then no worries as we are here to help you. Let us compare both the platforms and point out the differences and similarities in them.
What is IPTV?
IPTV, referred to as Internet Protocol Television, is a video streaming platform where the internet is used to deliver TV programs.This service provides content over a privately managed network. It could be either LAN, aWAN or an ISP network. IPTV reserves bandwidth expressly. 
IPTV guarantees a superior quality image and sound without interruptions and enhanced network security. Examples of best IPTV services are- Best Streamz, TV Subscriptions, IPTV promotions etc. 
An IPTV system is very popular among the audience or the subscribers because it is an easy to use platform and has features which are not only flexible but also more beneficial to the users. An Iptv platform is also compatible with all types of display screens.  
How Does IPTV Work?
IPTV sends data over TCP/IP using a multicast method, that means the information reaches a group of recipients at the same time, instead of sending a clip to every single user. Other popular protocols are Real Time Messaging and HyperText Transfer protocol. 
What is OTT? 
OTT also referred to as Over-The-Top media service is a media service which is provided to the user directly through the internet. The term is most synonymous with subscription based video on-demand services that offer access to television and on-demand services.
It has three types –  
Television, 

Messaging and 

Calling. 
Consumers can access them through internet connected devices such as phones, Smart TV's, etc.  
How Does OTT Work?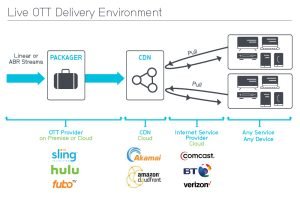 In this platform the data is sent over a high-speed internet connection. In simple terms OTT services are content providers that rely on a free transmission system.to deliver their content. They deliver the content only upon request and in a unicast or one-to-one transmission method. 
OTT performance depends on the internet speed, available bandwidth and the connectivity speed supported by the end user display device.                                                                  
Some famous OTT service providers are Netflix, Amazon Prime Video, Hulu, You Tube etc.
IPTV vs OTT –  Pros and Cons 
So the most important question is "What are the main differences between IPTV and OTT?" 
Let's check out!
1. Content Delivery and Network 
OTT platform uses an open network for delivering content to the users, which helps them to save a lot of investment on infrastructure. In contrast, IPTV distributes  content through a closed, proprietary and optimized high bandwidth network. IPTV is reliable and has high quality of service, far easier to monitor but a bit expensive.
2. Components Needed 
If you want to set up an IPTV at your home, then you will need an internet connection along with a router and a setup box. OTT however, only needs an internet-compatible device connected to data through wi-fi.
3. Quality of the Video
The quality of the video served by OTTs depends immensely on the available bandwidth and speed of internet connection and devices we're using. In the case of IPTV, higher image and audio quality is expected due to the use of private content delivery networks to reach concrete IP addresses.
4. Price 
In the case of IPTV, usually subscription packages are sold at comparable rates to traditional cable or satellite TV. Whereas, OTT services can be sold as low as $4.99 per month or even be free for the user. 
4. Types of Content
IPTV services telecast the programs as per the schedule of the TV station. They may include three different content type flavors; live  near television, some time-shifted television to replays a show or start it over, and VOD, including recorded channels and programs to watch on demand.
OTT on the other hand, traditionally  provides a VOD catalog for viewers to pick and choose. Some services now also add live tv channels like,  disney+,Amazon etc. Differences are very less as both services enhance their content offerings over time to attract a large audience.
IPTV vs OTT? What's Suitable for You?
It traditionally depends upon the content delivery infrastructure and operational company have in place banked.
OTT is a more economical and user friendly solution that can be customized to enhance user experience. Introducing new compiling features for the user, and lower diameter. Remember that it delivers videos p2p. It is a business option open to money and varied use that requires a lower upfront investment.That is the main reason why OTT services have gobbled up a large share of the TV market.
On the other side, IPTV provides a much higher quality of service and senior monitoring, management, and scalability. But at the expense of higher operational costs that includes installation, management and updating of all the infrastructure components. Although IPTV is more robust but due to lack of innovation and ease of customization, the users are lacking their interest in it.
Conclusion – If you don't have very good network connectivity you should go for OTT, because video quality is not very high. But if you want to watch high definition videos you must choose IPTV.