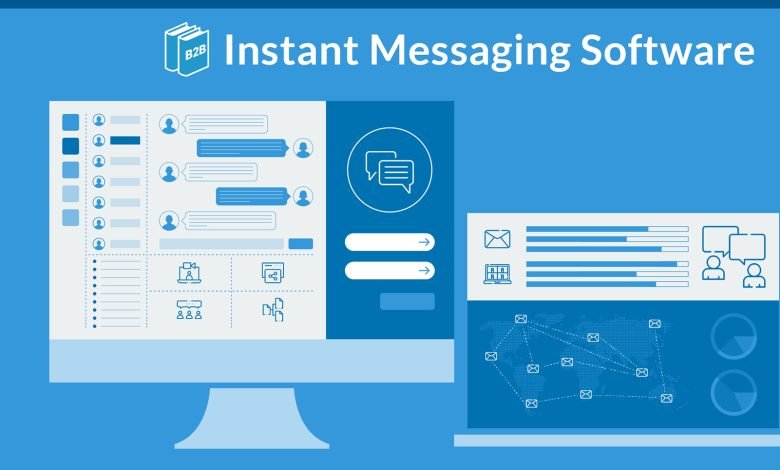 The term "instant messaging software" refers to a category of specialized apps developed to assist professionals in more successfully communicating with their customers and other members of their teams. These programs may serve as virtual meeting rooms, allowing you to remotely convene meetings with other members of your team and discuss a variety of topics with them at the same time. A few of the applications also have a function that allows users to share their screens, which makes the dialogue much more enjoyable.
With the use of instant messaging technologies, we can now communicate instantly online. The instant messaging program facilitates communication between users utilizing a chatroom. It relays messages much the way a LAN messenger would across a LAN. Several instant messaging apps use push technology to convey text messages. Some apps like this one deliver messages one character at a time. File sharing, Voice over IP, video chat, and active hyperlinks are all features that can be integrated into the most modern forms of instant messaging. One thing to be noted here is that message and notice are two different things. You can check their Difference on Notice and Message.
These systems provide highly functional admin dashboards, and administrators can personalize their dashboards according to their tastes. In addition to this, they can synchronize their data across several devices, which allows their applications to remain current. Most of these cloud-based programs provide specialized chatrooms for chats with clients and customers and successful closing agreements. Professionals can incorporate these chatrooms into their websites so that they may respond to inquiries straight from their sites. Some of the best instant messaging software are as follows:
Flock
Skype
Zoho Cliq
Fuze
Chatwing
ChatBlazer
Echofin
Flock
Flock is a powerful, lightweight Instant Messaging Software designed to offer corporate personnel an easily accessible chat client. To the left and right of the main window, you may see several categories of information, including individuals you're already in touch with and those you've just linked with. Communication may take place in the central panel. You may sign up for an account by providing an official email address and verifying it with a personal identification number.
Creating a group requires naming it and inviting at least one worker. Once you've made a group, you can start adding members, such as partners and clients. The "Lobby" group is Flock's default communication hub, where all contacts are automatically added. To facilitate teamwork on various tasks, you may provide people access to one another in a one-on-one setting.
Skype
Skype is the full-featured Instant Messaging Software that enables you to make an infinite number of phone calls, send and receive messages, and share files. It combines telephoning, texting, file sharing, and video conferencing. Skype allows users to sign in using their Facebook or Microsoft accounts. After that, a profile photo may be taken or uploaded. You may search for a contact by email, name, Skype name, or phone number.
It lets you share your screen and video calls with Facebook pals, see news feeds and transfer contact info. Sort contacts by name or online, generate VCF backups, activate IM alerts, see Outlook contacts, and hide offline pals. You may also block people, check old messages, delete contacts, mark messages as unread, and add profiles to custom lists or Favorites.
Zoho Cliq
Zoho Cliq, often called Zoho Chat, is a fantastic instant messaging software that lets professionals communicate in a channel or chat room. It is an excellent instant messaging software. You may initiate audio and video calls directly from your drain or space. A fork feature enables you to take selected postings from a track to a private one for additional discourse. This platform integrates all Zoho productivity and business apps, allowing users to interact. It works with an extensive range of well-known third-party apps.
The drag-and-drop functionality makes it simple for users to exchange data. Besides Mac OS X and Windows, it also works on Linux. The program Zoho Cliq may be accessed from any internet-connected device. It's possible to make unlimited live video calls and use the software's 100GB of free storage space for your files. The system is compatible with various operating systems and mobile gadgets. Zoho Cliq provides encryption and is compatible with many networks.
Fuze
Fuze is a cloud-based communication application for scattered and digital workforces. This enterprise-grade platform delivers the most crucial meeting, chatting, calling, and sharing voice experiences. It is equally beneficial in reducing complexity and expense. More than that, it facilitates coordinated effort with little friction.
Teleconferencing and videoconferencing promote teamwork in the workplace. The software hosted in the cloud has built-in redundancy. This UCaaS platform is scalable and safe. Its multi-data center architecture and regionally balanced design improve business and save 99.99% uptime. The application encrypts corporate communications using privacy and security protections.
The firm has its IT and security systems annually audited by a third party. Using Fuze Web, you may have a video or audio conference and a group chat. There is no need for plugs or applications if you'd want to host guests. Business users and IT managers benefit from a reliable interface.
Chatwing
Chatwing is a mobile and online chat platform. The software lets firms create widgets and chat boxes for mobile apps and websites. Over 3 million websites use this cloud-based chat application. The program offers prospects, customers, and website visitors a free outlet to discuss their services and goods. Its mobile and desktop apps provide widgets and chatrooms.
It allows real-time data synchronization across all devices. Built-in chat rooms on websites increase repeat mobile and desktop purchases. It provides a dependable, quick, and simple method for customers to talk with you or your staff. You may answer customers' questions to boost sales and income.
Chatroom owners may also modify the theme or colors. Premium members may advertise their business by adding their logo to chat widgets. Twitter and Facebook are two of the social networks that Chatwing may connect with to engage website visitors and users better. Full compatibility is ensured by the program's support for both Android and iOS.
ChatBlazer
ChatBlazer is a virtualized platform that delivers chat and audio/video calling features. It's a flexible chat platform for non-profits, businesses, or schools to boost productivity. The software allows small and big companies conferencing and real-time collaboration. Specialized customer care provides an engaging way to communicate with clients to improve your company.
The software works on smartphones and tablets. Large and small enterprises may pick chat room capacity based on their needs. The hosted version of ChatBlazer X is suitable for blogs, networking sites, and startups. Users, moderators, hosts, and administrators may use this multi-featured package.
This platform's features include device-to-device chat, member database linkage, and single sign-on. Users may modify chat server proprietary technologies for real-time communication. Integration with practical business solutions boosts its capabilities.
Echofin
Echofin is a messaging software explicitly designed to help those working in the financial markets. The program is like Slack, Kik, WhatsApp, or HipChat. Traders in the financial markets may integrate the program's built-in messaging features and pre-built widgets into their preferred instant messaging apps. A pleasant virtual trading room environment may be established with the help of this chat program.
Training, marketing, chatrooms for learning, billing forms, checkout buttons, and billing integrations are just some features that allow customers to save time and effort. For those with less expertise, Echofin provides premium or private chatrooms where users may monetize their accounts and turn their chats into money-making engines. Users may include media files in the chat history to enhance the dialogue.
This platform allows users to exchange visuals, music, papers, links, and charts. As a bonus, they have a better platform to instruct new hires, address problems, and analyze market trends. A private chat room is a place where two people may have a discussion or where a group can start a dialogue with one another. Flow alerts and heat maps are examples of real-time financial and news widgets that keep users abreast of recent market shifts, developments, and occurrences.