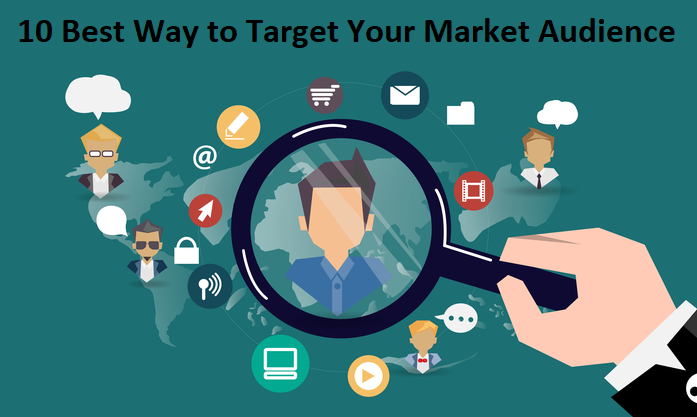 So you have your business registered, website up and running, maybe even selling goods or offering services. Before you expect to see any level of success with your site though, you need to find the right market. The terms target audience and market are frequently interchanged in professional circles when in fact they should be used correctly. A market is a group of consumers that have a strong interest in your product or service.
Once you have defined your market, this then becomes your target audience. You should take the time to research who the people are using social media sites, read relevant newspapers and magazines, watching particular TV shows. Find out where they are online and what keeps them occupied during their free time and you'll be amazed at how easy it is to market your product or service.
The following 10 best ways to find your target audience should prove very beneficial when looking for that group that has a vested interest in what you can provide them. If you follow these, you won't go too far wrong:
Create a market positioning map
Finding your target audience is the first step when marketing a product or service.  Put simply, it's finding the people you want to buy what you're selling.  The more specific you are about who you are trying to reach, the better off you will be in creating an effective marketing campaign.
A good way of finding out if you've hit your target audience is to create a market positioning map.  A market positioning map contains four quadrants, each telling you something about the characteristic of the people in that group and what they want from your product or service.
The four quadrants are:
Primary Buyer Types: These are the people who will buy your product or service when it is released.  This group is likely smaller than the others, but you need to know who they are.
Secondary Buyer Types: Sometimes your primary buyers won't be able to buy what you're selling by themselves due to financial restraints, availability of information, or differing goals.  These people can be important advocates for your product.
Potential Sources of New Customers: These are the people who might buy what you're selling if they were to be aware of it.  This is where advertising, public relations, and word-of-mouth marketing come in handy.  These customers can turn into primary buyers or secondary buyers with some effort.
Uninterested or Inactive Targets: These are the people who aren't buying your product because they don't want it right now.  They might change their minds in the future, so you'll still want to keep them in mind as potential customers.
Your market positioning map should also contain a rough estimate of how many people fit into each group, even if the margins are off.  This will help you better understand who you are marketing to and how many of them there are.
Social Media Marketing
we all know how important it is to use social media sites in order to sustain a business. By following the right people on Twitter and Facebook you can build up a really good picture of who your target audience is. The key here though is not to spam messages across timelines and news feeds, instead put yourself in the mindset of someone working for a big marketing agency and providing value.
SEO – Search Engine Optimization
Search engine optimization is a great way of making sure that your target audience can find you. By paying for online advertisements, writing engaging content, and building links to your site means that you're going to get noticed by the people who really matter. There are many ways in which social media sites link into cheap SEO Company and the best advice is to put yourself in your target audience's shoes and ask, what you search for when looking at buying a new product or service.
Advertising
this is one of the most effective ways of getting in touch with your market. Investing in advertising means that you're going to reach out to people who are thinking about purchasing a product or service. That can be in the form of simple posters to more complex television and radio ads, but if your budget allows it then this is one of the best ways.
Keyword Research
it's important that you try and find out what keywords people use when they're looking for products or services. If you know this, then you can add them to your website and make it more likely for people to find your content. If they use a particular keyword on the search engines it's going to have a better chance of being noticed by you instead of your competition. Amazon is a good place to start when doing keyword research because it will provide an aggregate number of searches for certain keywords.
Research Competitors
another way to find out who your target audience is is by looking at what your competition is doing. You can conduct some simple searches on Google and look at the ads they're running but also look at their social media sites, what content do they produce? What articles do they write? Look at what they're doing and see if you can do any better.
Email List
if you don't have an email list yet, then now is the time to start one up. Create some compelling offers that will entice people to sign up for your newsletter or update new blog posts, this way you're building a list of people who are thinking about your products and services.
Press Releases
releasing a press release to news sites about the launch of your new product or service is like shouting from the rooftops that you've got something new available. There's no need for this to be an expensive exercise, just do it yourself and if you get an interview out of it then that's even better.
Email Marketing
if you're not using email marketing to reach your target audience, then now is the time to start. It's by far one of the most effective ways of communicating with people. Those who are interested in what you have to offer because they've already shown an interest. In it by giving you their email address.
LinkedIn
Most people think of LinkedIn as a place for business professionals to connect with each other. But there is so much more than that. Posting updates and sharing links across your connections' newsfeeds means that your target audience can find you. Without too much effort. If you want more exposure on LinkedIn. Then start by following groups that are relevant to your niche. So you can share links and generate discussions that will increase your search engine rankings.
Forums
Find forums where your market is hanging out and become an active member in them. If you create great content that provides value for people it's likely that they will return the favor by visiting your website and checking out what you have to offer. It's a way of talking with the people who are interested in buying your product or service which can be very productive if done correctly.
You should write for your audience, not for search engines. Write content that people would find interesting, useful, or entertaining. Basically, try to write something that would appeal to your audience, not search engines.
Because of this, you should try and include the keywords that people are going for in a readable, conversational way. It's all about writing content in a natural way so it doesn't come across as Sammy or pushy. You can also optimize title tags and Meta descriptions with specific keywords, which will improve your search engine rankings.
However, don't overdo it – Google is getting better at spotting content. That is a keyword-stuffed with constant repetition of the same words or phrases. You won't rank very well if you do this so be natural in your writing and include keywords organically.
Conclusion
If you're trying to find your target audience and want a few tips on how to go about doing so. We have 10 for you. From social media marketing to keyword research and email list building. These are the best ways we've found that will help grow your customer base. If any of this sounds confusing or overwhelming- let us know! Our team is here for you every step of the way as well as after the sale. With SEO strategy development and ongoing digital marketing support. Which of our suggestions has been most helpful in finding new customers. The list of 10 best ways to find your target audience is by no means exhaustive. There are many other methods you can use, including social media marketing, email list building, and press releases. If you need help with any of these strategies Please feel free to contact us.