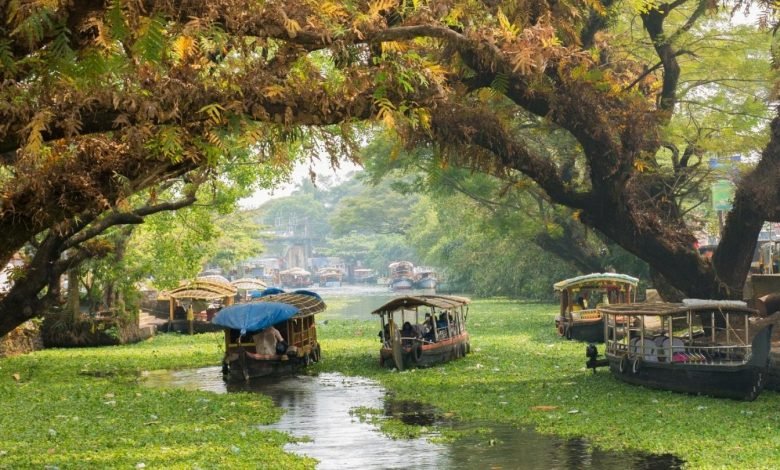 Munnar is one of the most beautiful and alluring hill towns in the nation and is a gem in the majestic Western Ghats. It is a heaven in God's Own Country and a veritable treasure trove for tourists. Munnar is one of those places that will fulfil all of your goals and make your vacations exceptionally unforgettable. You can explore this beautiful hill station by just booking the Munnar tour packages offered by Lock Your Trip. This travel guide to Munnar will help you explore this place to its fullest. It is adorned by the beauty of the gently sloping hills, evergreen tea plantations, delicious spice gardens, meandering pathways, and much more.
Munnar is the perfect destination for any adventure, whether it is a family holiday, a trip with friends, a business retreat, a honeymoon, a backpacking trip, or any other kind of path. This hill station in Kerala's Idukki district is a must-visit vacation destination because of its alluring hills and mountains, babbling rivers, cascading waterfalls, verdant plantations, and wildlife-protected areas. This travel guide to Munnar will provide almost everything you need to know before visiting this amazing hill station in Kerala.
History Of Munnar
Munnar's first inhabitants were the Muthuvan tribal group, who lived in these highly wooded hills for several decades undetected. Before a few daring British officers tried to investigate it in the late 19th century, the region remained unknown, unexplored, and undiscovered. As a result of their friendship with the locals, a successful trade relationship eventually developed between the two tribes. The Travancore Kingdom royal family permitted John Daniel Munro to develop the area when he saw its potential. In the beginning, crops including coffee, cardamom, sisal, and chinchona were produced. However, these were quickly replaced by a flurry of tea plantations, and the land was quickly transformed into independent estates.
Following Independence, the Tata Group entered the picture and seized control of the land's development with a focus on tourism. People quickly started visiting the region as information about the flora and fauna and natural beauty of the place spread. As hotels and resorts were built, Munnar quickly became a well-known tourist destination in India. The British saw the potential of the stunning region and helped Munnar expand as a tourist destination. Plan a trip today and be ready to create memories that will last a lifetime.
Best Time To Visit Munnar
Munnar is a wonderful holiday destination due to its comfortable climate and gorgeous scenery. Although Munnar's environment is pleasant all year round. In this section of this travel guide to Munnar, the season-by-season breakdown below can help you better understand the weather there and make travel plans.
Summer:
Summer officially starts in Munnar in March, and the weather is still pleasant with temperatures between 19 and 35 degrees Celsius. You may now go to the Tata Tea Museum, the Munnar tea farms, and other attractions. Carry breathable cotton, but also a poncho because summertime rains are frequent.
Monsoon:
When it rains, Munnar sparkles with faded green and you can sense the freshness all around you. Let the monsoon season bring a greener world. When Munnar is covered with luxuriant green vegetation, the monsoon season has a special beauty. Due to the off-season, this is also an excellent time to take advantage of hotel rate savings. You may visit Munnar alone, free from the hustle and bustle.
Winter:
The best time of year to visit Munnar is winter. The weather in Munnar is nice in the winter, and the lowest temperature at this time will drop to about 8°C, making it the ideal time for a vacation or a honeymoon.
How To Reach Munnar
Munnar is a popular tourist destination and is rich in greenery, and stunning tourist attractions with a variety of things to do and see. And getting here is not a tough effort. In this section of this travel guide to Munnar, we will mention the convenient transportation options to Munnar through air, train and road.
By Air:
Cochin International Airport is around 125 kilometres distant from Munnar. All of India's main cities have excellent connections to the airport. There are consistent taxi services from the airport to Munnar.
By Train:
The closest train station is at Ernakulam or Kochi. It serves as a major interchange for trains arriving from all over India, including Delhi, Bangalore, Mumbai, Kolkata, Mangalore, and others. With a distance of about 120 kilometres, Aluva Railway Station is located just around 120 kilometres from Munnar.
By Road:
You may take a bus or a cab to Munnar after landing in Kochi, Aluva, or Ernakulam. For instance, you may purchase tickets from the counter of the bus terminal that is close to the Aluva train station or through the website of the Kerala State Road Transport Corporation (KSRTC).
Places To Visit In Munnar
One of the most beautiful views in the nation can be found at Munnar. Which is sure to calm your spirit and leave you feeling amazing and refreshed. If you visit the top places in Munnar, Munnar for Sightseeing provides activities and attractions to fulfil peace seekers, daring spirits, and honeymoon couples. In this section of this travel guide to Munnar, we will mention the best 5 places to visit in Munnar.
Eravikulam National Park:
This national park was previously a hunting ground for the British. Today, this park provides the finest possible wild animal conservation. The height of this national park is 7000 feet above sea level. The critically endangered wild goat known as Nilgiri tahr is protected in this area. This is the pride of Munnar.
Munnar Tea Museum:
The museum, which is operated by Tata Tea, explains the development of the Munnar tea business. There is an intriguing collection of old artefacts, photographs, and artefacts. From the nearby tea processing facility, you can also comprehend the intricate tea processing. This is an aromatic experience.
Pothanmedu View Point:
This picturesque location gives a magnificent view of Munnar. It is situated on a high rock at the entrance to Munnar. One may view the lovely valleys from here as a carpet of green covered in tea, coffee, and cardamom farms. For those who enjoy adventure, this location offers more than just entertainment. In Munnar, this location is excellent for hiking and trekking.
Attukal Waterfall:
This must-see location is located deep in a valley 8 kilometres from Munnar. For long treks, Attukal near Munnar is the perfect location. Attukal provides an amazing spectacle with its sloping slopes and gushing waterfalls.
Mattupetty: Mattupetty is located at an elevation of 1700 metres and is well-known for its dairy farm. The stunning Mattupetty lake and dam, a well-known picnic area, is close to this amazing property. The reservoir of Mattupetty Dam is enormous. An exciting aspect of visiting this location is the opportunity to go boating and occasionally see numerous wild species, such as elephants and sambar.
Things To Do In Munnar
The ideal location for a tranquil and restorative break in the hills in Munnar. There are several tourist attractions in and around Munnar. And each one of them is ideal for lounging about on vacation with a nice cup of tea and your favourite book. In Munnar, there is no shortage of exciting things to do. Plan your schedule by choosing the things you want to do from the list below to make your trip to Munnar more enjoyable. Kerala is a wonderful place to visit. In this section of this travel guide to Munnar, we will mention the best 5 things to do in Munnar.
Trekking:
Munnar's stunning mountains offer the ideal backdrop for an exhilarating hiking excursion. In Munnar, there is no shortage of hills, mountains, or hiking routes, and several resorts and hotels coordinate hiking excursions. The Anamudi mountain in the Eravikulam National Park is one of the most beautiful trekking routes in Munnar. This hiking track is a jewel when combined with a trip to the National Park because of the clouds that are playing with the mountains and valleys that are shrouded in green.
Boating:
Munnar is gifted with beautiful quiet lakes and meandering rivers, so there are plenty of options for relaxing boat trips there. Take a boat trip on one of Munnar's numerous lakes or rivers to enjoy the majesty and peace of nature. One of the most picturesque locations for an exciting boat trip is Mattupetty Lake.
Yoga:
The peaceful hills of Munnar provide an environment of complete relaxation. Visit the Kaivalyam Yoga and Holistic Health resort in Munnar to revitalise your body, mind, and soul through the ancient practice of yoga. The Kaivalyam offers you a taste of the ancient form of yoga as well as an ecological way of living and eating, all while being surrounded by the breathtaking grandeur of Munnar's tea fields.
To Learn More About This Website, Click Here:-